Most Frequently Asked Questions
What time can we check-in? What time is check-out?
Check in time for our sites and rental units are 1PM and 4PM respectively. Please note that during peak season, your check out time is 11AM. We ask that you adhere closely to the recommended times. Remember that we include complimentary early arrivals in our value seasons, based on availability.
Can we stay in the park and use the amenities after check out?
Complimentary early arrival (11AM) and late departure (1PM) are included in our Spring and Fall Season packages, based on availability. We also offer an extended stay package! Please note, we are unable to offer early arrival or late departure during our Summer Peak Season. Unfortunately amenities are not available before check-in or after check-out.
Do you offer a family rate?
Families today come in many shapes and sizes, so our base rate covers two people. Ask your reservation specialist to quote a package rate for your individual family. Rates are subject to change.
How many people are allowed on one site?
Site occupancy is restricted to ONE camping family (4 adults OR 1 or 2 adults and their unmarried dependent children).
How many people are allowed in a rental unit and what are the sleeping arrangements?
Each rental unit can accommodate ONE camping family, with maximums applicable. The Rustic Cabins have two rooms, with a full size bed in the front room and two sets of twin bunks in the back room. The Full Service Cabins have a full size bed in the master bedroom, a futon, and a carpeted loft area (which is great for children to bring sleeping bags or air mattresses). Most of the Premium Cabins have a master bedroom with a queen size bed, a futon or pull out couch, and a large carpeted loft area. We also have a handicap-friendly unit and loft-free options for small children. The RV rentals are two bedroom units with a queen size bed in one bedroom and a bunk house with twins in the second bedroom. Please check with your reservation specialist as we also offer a number of "pet friendly" rentals.
What is included in the nightly rate?
We offer a variety of site options from wilderness tenting to big rig full hookup sites that include water, sewer, electricity, and cable. Each site also has a picnic table (and/or patio set for certain rental units) and a fire pit. All of our sites include full use of the amenities such as the pool, hot tub, beach, sports field and courts, and many activities. Rates are subject to change.
What will we pay extra for?
There are nominal fees for boat rentals, mini golf, arcade games, and some crafts and/or activities.
Can we bring our own firewood?
Please help us protect our trees. Only pre-packaged, kiln-dried firewood is allowed. We offer bundles of wood for sale, which can be delivered to your site, with a minimum purchase requirement. DO NOT cut on or down any trees or plants on property. Visit www.mass.gov/dcr for information regarding invasive insect infestations.
Can we have visitors?
Pre-registered visitors are allowed on a limited, first come, first-served basis. Visitors must be pre-registered and paid for by the camping guest a minimum of 48-hours in advance. All visitors must obtain a vehicle pass ($) and wristbands that must be worn while they are on property. The per person and per vehicle fee allows your visitors to access the same amenities and activities as you. Fees are subject to change based on demand. Day visitors may arrive after 9AM and stay until 10PM. Day visitors are limited to four (4) people. Visitors must be accompanied by one adult camper host while on the property. Campers are responsible for their visitors' actions at all times and authorize us to charge said account for ALL charges they incur if they are not paid.
Visitor fees are nonrefundable.
There are no refunds for visitors due to weather, not showing up, etc., as a slot was reserved for them.
OVERNIGHT visitors are not allowed, but additional family members can be added to the full length of your stay.
Remember to remind your visitors to leave their PETS AT HOME, as visiting pets are not allowed on the property.
Do you allow pets?
Registered ($) family pets (No Aggressive Breeds) are welcome and must be accompanied at all times (Limit two dogs and/or cats per site). Dogs may NOT be tied up and/or left alone, MUST be cleaned up after and are not allowed to be walked by children. Short (6′), non-retractable leashes are required on property. Registered campers may be asked to leave if a pet is a disturbance. Pet owners must have current rabies vaccination certificate available.
NO pets allowed in Resort buildings, food areas, and swimming areas per state law. Doggie stations are located throughout the park.
VISITORS ARE NOT ALLOWED TO BRING ANY PETS of any kind into the park. It is the camping guest's responsibility to inform all visitors of this information.
Do the rental units have cooking and eating utensils and what do I need to bring?
With the exception of the Rustic Cabins, all of our rental units come with cooking and eating utensils and a gas grill. There is no need to bring the propane for the grill, as this is provided by the Resort. The Rustic Cabins have a charcoal grill, but you will need to bring your own charcoal. You will need to bring linens, pillows, dish and hand soap, bath linens, towels for the pool area, toiletries, and groceries for all of the rental units. The Rustic Cabins need linens for a full size bed and two sets of twin bunks. The Full Service Cabins need linens for a full size bed, a futon, and sleeping bags and/or air mattresses for the carpeted loft area. The Premium Cabins require the same linens as the Full Service Cabin, except the bed is a queen size. The RV rentals have a queen size bed and a bunk house with twins that require linens.
All full service cabins and RV rentals have 4 cup coffee makers. All premium cabins have Keurig coffee makers.
How far are you from Worcester, Boston, and other attractions?
The Resort is only 15 miles from Worcester and 20 miles from Sturbridge. Boston and Springfield are 50 miles and 30 miles from the Resort respectively. There are many points of interest within thirty minutes of the park. Please stop by the office for information on attractions, directions, and recommendations.
Do I need a fishing license and what type of fish are in Lake Dean?
Anyone 15 years of age or older must obtain a fishing license to fish in Lake Dean. The fees range from $0 – 37.50, depending on age and residency. Please visit www.massfishhunt.org for more information or to purchase a fishing license. Lake Dean has many types of fish, mostly Large-Mouth Bass, Pickerel, and Sunfish. Catch and release is recommended.
How big is Lake Dean? Can I bring my boat or jet skis and is there a fee?
Lake Dean is a 70-acre man-made lake. It is a little less than a mile long and half mile wide. The deepest part of the lake is about 9 feet. Jet skis are not permitted per Massachusetts State Law. There is a $25 fee to launch a boat with any fuel motor. We recommend a length of not more than 17 feet. Docks can be rented pending availability. You can bring your own kayaks, canoes, etc. for no charge. All motorized boaters must provide proof of registration in the name of the camping guest.
What is your operation schedule?
Our primary operating season is May 1st – October 15th. We have organized and themed weekend activities for the length of season. We offer daily activities during July and August. Some amenities are limited during our Spring and Fall seasons.
How much of a deposit is required when I make my reservation?
Payment is due in full at the time of booking for the current year, and can be made by using a Visa, MasterCard, or Discover. We take a $125 deposit for any 3 night campsite stay and a $250 deposit for stays longer than 3 nights or rental reservations a year in advance, and you will be invoiced in January for the balance. For example, any reservation made for 2025 for a rental unit would require a $250 deposit at the time of booking in 2024, with the balance due in January 2025. All reservations are subject to a $10 non-refundable reservation fee.
Which cell phone carriers have reception at the Resort?
AT&T and Verizon have the best reception at the Resort. Please check with your service provider for coverage.
Is there a minimum stay required?
Our campsites require a minimum three night stay during our Spring and Fall Seasons. Peak Season stays of less than seven nights are subject to general reservation open dates.
Our rental units are rented by the week during July and August (Friday to Friday or Sunday to Sunday), but can be rented for a 3-night minimum stay during our Spring and Fall seasons, with the exception of our Rustic Cabins. Rustic Cabins are rented with a 5-night minimum during July and August, but can be rented for a 3-night minimum stay during our Spring and Fall seasons. Holiday rates/minimum stays apply. All reservations are subject to general reservation open dates.
When does the pool Open and Close?
The pool is scheduled to be open from the end of May through early September and is heated to 80 degrees. If weather permits, it has occasionally stayed open later into the fall. Please contact the office for exact dates.
Can I request my favorite site?
Our staff will always try to accommodate your choice of sites! However, site choices are not guaranteed and we reserve the right to move your site for any reason deemed appropriate.
Do you have WiFi and how do I connect?
WiFi is provided for your convenience (free and $ options). The bandwidth here at Pine Acres Resort is limited due to our rural location. Therefore, the WiFi should NOT be expected to function the same as your home or work networks.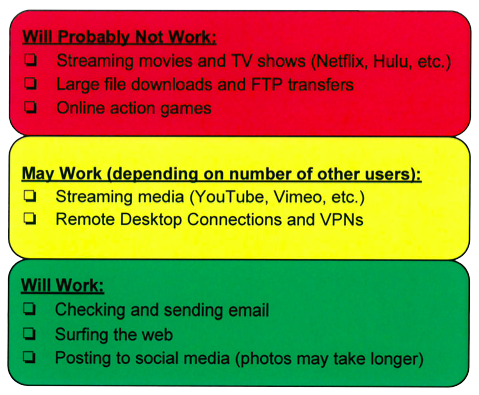 Use of the WiFi system constitutes acceptance of the Terms of Use. You must comply with local, state, federal and international laws and regulations, including, but not limited to, copyright and intellectual property rights laws. All campers will be personally responsible for any violations of aforementioned laws and regulations.
To connect, simply open your device's WiFi settings, select Pine Acres WiFi, and click connect. No password necessary! Just wait for the splash screen to pop-up on your device and chose your package.
Pro tip: if the splash screen does not show up, you can try opening a browser window to force it. Alternatively, you can turn your WiFi off and back on. Lastly, try restarting your device. Happy browsing!
Do I need to bring quarters for the showers?
Showers are complimentary. Quarters are needed to operate the laundry machines.
Can I bring/charge my electric vehicle?
Electric vehicles are permitted, but not allowed to be charged at your site due to our rural nature. We do offer EV charging at specific locations for an additional fee. Contact the Office for details.